Navigating College Admission Tests
WEBINAR HOSTED BY CARY ACADEMY AND DURHAM ACADEMY
Tuesday, April 28th, 7:00 PM Eastern (4pm Pacific)
If you were unable to attend the live event, we have made a recording available below.
Hear the most current news and thoughtful insights on the following and more:
COVID-19's sweeping impact on college admission testing

Test-date disruption and when site-based testing may resume
Likelihood of SAT and ACT at-home online testing this fall
How colleges are responding now and what is unresolved

Making the best choice between the SAT and ACT

The role of test scores in different admissions contexts

Making sense of the subtlety and variety of testing policies

Debunking the most pervasive myths about testing

Finding the optimal timeline your for testing and test prep

Scope of test prep and expectations for improvement
Adam Ingersoll began his career in test prep in 1993 while at the University of Southern California, where he was a student-athlete on the basketball team, worked in the admissions office, and graduated magna cum laude. Now in his third decade guiding families to successful experiences with standardized tests, Adam is recognized as a leading expert on college admission testing and is a popular speaker at higher education conferences and dozens of school events annually. He has provided training on test usage for the admission teams at prominent universities including Caltech, Rochester, and USC.
Take an SAT or ACT Practice Test Online at Home
Regular time tests are offered at 9:00am and 1:00pm Eastern.
Extended time tests are offered at 12:30pm Eastern.
Other accommodations and test types may be available upon request.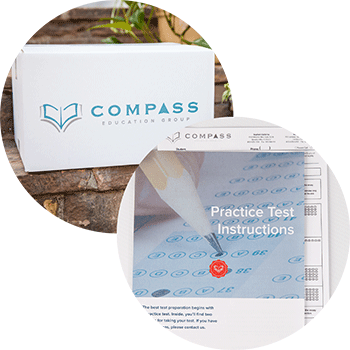 We Send You a Practice Test
You'll receive a physical practice test in the mail the week leading up to your online proctored practice test. We'll also email you instructions for logging into the virtual testing room.
On test day, you'll log into the online testing room and meet your proctor. He or she will greet you and begin the test. Move through the sections according to the proctor's directions.
Send Your Test in for Grading
At the end of the test, your proctor will give you instructions to submit your test for grading. Once received, we'll dismiss you and send your score report as soon as it's available.
Receive Personalized Advice
Schedule a consultation with a Compass Director
The members of our management team are leading experts in the field of admission testing. They personally lead every aspect of each student's experience with Compass, including constructing an ideal program, collaborating with and supporting the tutors we select for you, and providing ongoing guidance all the way through your college applications. We welcome you to schedule an appointment with us to discuss your needs and a strategy for how best to proceed.
The Compass Resource Center
Download the latest version of…
The Compass Guide to College Admission Testing
…in our comprehensive Resource Center. Get answers to the most important questions, including:
How competitive are your test scores?
What is the most effective calendar for testing?
What are the implications of 'test optional' policies?
How do the SAT and ACT compare?
How do you interpret PSAT scores?
Should you take SAT Subject Tests?