Navigating College Admission Tests
A PRESENTATION FOR ARCADIA HIGH SCHOOL
Wednesday, January 19th, 6:00 PM PST
If you were unable to attend the live webinar, a recording has been posted below.
Are you interested in learning practical, usable information about standardized testing and college admissions?
In response to the pandemic, colleges have radically adjusted their admission testing policies. Hear from the experts at Compass Education Group and the counselors at Arcadia HS as they lead a thoughtful and pragmatic discussion of college admission testing and the outcomes and unpredicted "silver linings" of the test optional movement.
The presenters will share their observations of how students are using their newfound agency — if/when to test, if/when to submit scores — as they redefine their relationship with the ACT, P/SAT, and AP Exams.
Other topics include:
SAT or ACT: Making your best choice
The role and weight of ACT/SAT and AP Exam scores
Understanding PSAT scores and what they project
Why colleges' testing policies vary so widely
Debunking pervasive myths about testing and admission
Sane and successful calendaring of testing and test prep
Best practices for exam selection (SAT or ACT), preparation, and calendaring
Torsten

 Sannar is the Managing Director of Compass Education Group, a provider of one-on-one tutoring for several thousand students annually around the world. 

Torsten

 is a graduate of Claremont-McKenna, where he discovered his passion for tutoring students.  He also holds a Ph.D. in Theater History from UC Santa Barbara, where he continued his teaching and tutoring career. Now in his third decade in the college admission testing arena, 

Torsten

 leads Compass' Los Angeles office and guides hundreds of individual families through the testing process. He is here to share insights on how to help students (and parents!) successfully navigate the testing requirements of college admission.
Sign up for an Online ACT/SAT Practice Test
Arcadia High School College Counseling Office, PTSA, and Compass Education Group will administer an online practice ACT or SAT test to students in the 9th, 10th, and 11th grades; a demonstration version of the *NEW* computer-based test and the resulting score reports are available below. The test results are invaluable in helping the Arcadia HS College Counselors and Compass directors craft the ideal testing and tutoring plan for each student.
After the test, you will receive your score report within a week.
PLEASE NOTE: The cost is $20. To submit payment, please go to this link and select Product Categories -> ASB Office -> Select Test. There is no charge for students who qualify for free or reduced lunch.
ACT/SAT Practice Test:
Available anytime between Saturday, February 5th, and Sunday, February 6th.
The registration deadline is Wednesday, February 3rd. On Friday, February 4th, we will send you a detailed confirmation email; the link to take the test will be included; you can take the test anytime during the testing window.
Complete the form below to sign up for a practice test.
NOTE: Compass's online practice test is open to students with standard timing and extended timing accommodations. The ACT/SAT standard timing is approximately 3.5 hours (but give yourself a little extra time to read instructions). Extended timing varies by individual. Comprehensive results will arrive shortly after taking the test. See below for further testing details.
Sorry! Online registration is now closed.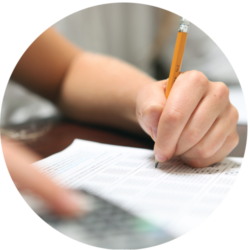 Ready to see an interactive test in action? Check out our demo test!
TAKE ME TO THE DEMO
The demo must be accessed through Safari, Chrome, or Firefox on a laptop, desktop, or tablet. Mobile phones are not supported.
Learn More about Online Testing Features
Preview our Interactive Score Report
Schedule a consultation with a Compass Director
The members of our management team are leading experts in the field of admission testing. They personally lead every aspect of each student's experience with Compass, including program recommendations, tutor selection, and ongoing guidance. We welcome you to schedule a call with us to review your student's practice test results and collaborate on a strategy for how best to proceed.
The Compass Resource Center
Download the latest version of…
The Compass Guide to College Admission Testing
…in our comprehensive Resource Center. Get answers to the most important questions, including:
How competitive are your test scores?
What is the most effective calendar for testing?
What are the implications of 'test optional' policies?
How do the SAT and ACT compare?
How do you interpret PSAT scores?
What happened to the SAT Subject Tests?