Sign up for Practice Tests
Chadwick College Counseling Office and Compass Education Group will administer a FREE on-campus online practice ACT test to students in the 10th and 11th grade. The test results are invaluable in helping the Chadwick College Counselors and Compass directors craft the ideal testing and tutoring plan for each student.
After the test, you will receive your score report within a week.
Saturday, January 8th, 8:00 AM (PST)
On-campus; room assignments will be issued on the day of the test.
This test will now be administered online.
Complete the form below to sign up for the on-campus online practice test. We will send you full instructions for the administration the week of the test.
The deadline for RSVPs is Thursday, January 6th.
NOTE: Only students who have already secured time accommodations for the ACT can register with 50% additional time for this practice test. Please note that we are only able to offer 50% extra time.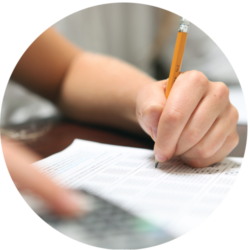 Sorry! Online registration is closed.
Schedule a consultation with a Compass Director
The members of our management team are leading experts in the field of admission testing. They personally lead every aspect of each student's experience with Compass, including program recommendations, tutor selection, and ongoing guidance. We welcome you to schedule a call with us to review your student's practice test results and collaborate on a strategy for how best to proceed.
The Compass Resource Center
Download the latest version of…
The Compass Guide to College Admission Testing
…in our comprehensive Resource Center. Get answers to the most important questions, including:
How competitive are your test scores?
What is the most effective calendar for testing?
How do the SAT and ACT compare?
What are the implications of 'test optional' policies?
How do you interpret PSAT scores?
What do I need to know about the new digital adaptive SAT?