Sign up for a practice test!
Collegiate School has partnered with Compass Education to offer an on-campus, paper/pencil, ACT practice test (linear, non-adaptive) at no cost. The test results are invaluable in helping the Collegiate School college counselors and Compass directors to craft the ideal testing and tutoring plan for each student.
THE REGISTRATION DEADLINE IS FRIDAY, NOVEMBER 10TH.
At-School ACT Practice Test: Saturday, November 18th, 9:00 AM (EST)
The ACT Practice Test will be administered at McFall Hall for students testing with standard time, and Sharp Academic Commons for students testing with extended time.
CLICK HERE TO REGISTER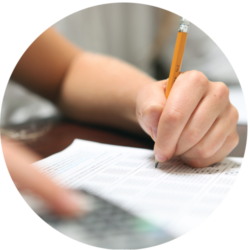 All students interested in At-School testing must register on this site, and select one of the following drop-down options: "Regular Time" or "50% Extended Time".

No other accommodations are offered for the At-School administration.

The At-Home option is designed for students who cannot test in-person on November 18 and/or for those who test with 100% extended time.
Students selecting the At-Home option may test anytime between November 18 and December 3, and return their answer sheets to the College Counseling Office by December 4.
Compass will provide a detailed score report to each student prior to the Winter Break.
Navigating a Rapidly-Evolving Testing Landscape
A PRESENTATION FOR COLLEGIATE SCHOOL
Thursday, January 11th, 8:45 AM (2024)
Board Room, Collegiate Campus
Last spring, College Board announced a sweeping overhaul to the SAT suite of assessments. Starting in the fall of 2023, paper-based administrations of the PSAT will be completely replaced by an adaptive, computer-based format. The SAT will follow suit in early 2024.
The introduction of a digital assessment comes at a poignant time in today's admission context, where colleges are actively interrogating the value of standardized testing in students' applications. And while many schools have retained test optional policies in the wake of the pandemic, admission offices have demonstrated varying preferences for test scores.
Hear from the experts at Compass Education Group as they lead a thoughtful and pragmatic discussion of the future of college admission testing.
Presentation topics will include:
– The evolving role of test scores in specific contexts
– Making sense of the subtlety and variety of testing policies
– Fresh admissions data from test score submitters and non-submitters
– Making an informed choice between the ACT and SAT
– The specs and design of the digital, adaptive PSAT & SAT
– Optimal timing and smart approaches to test preparation and testing
Matty is a Senior Director at Compass Education Group, a provider of one-on-one online test preparation and tutoring that works with thousands of students nationwide. Prior to joining Compass, Matty obtained their MA from the University of Chicago and a BA from UC Santa Cruz (Go, Slugs!). They have over thirteen years of experience in the testing industry and are regularly invited by counseling and admission professionals to explain the latest updates to the testing landscape. Each year, Matty and their colleagues speak at over 300 high schools and professional organizations, where they demystify the SAT and ACT and dispel anxiety about the testing process.
Schedule a consultation with a Compass Director
The members of our management team are leading experts in the field of admission testing. They personally lead every aspect of each student's experience with Compass, including program recommendations, tutor selection, and ongoing guidance. We welcome you to schedule a call with us to collaborate on a strategy for how best to proceed.
The Compass Resource Center
Download the latest version of…
The Compass Guide to College Admission Testing
…in our comprehensive Resource Center. Get answers to the most important questions, including:
How competitive are your test scores?
What is the most effective calendar for testing?
How do the SAT and ACT compare?
What are the implications of 'test optional' policies?
How do you interpret PSAT scores?
What do I need to know about the new digital adaptive SAT?