Sign up for a Practice Test
Durham Public Schools and Compass Education Group will administer an online practice ACT test to students in the 11th and 12th grades; a demonstration version of the test and the resulting score reports are available below. The final test results are invaluable in helping to the ideal testing and tutoring plan for each student.
"[School-based] practice tests provide all students with the chance to become familiar with the test format and mental tasks demanded by the ACT test. A study found that students who used [practice tests] for at least two hours in a subject area had score gains more than double those of similar students who did not." Source: "Benefits of PreACT: What Does the Evidence Say?" ACT Research & Policy | Issue Brief | June 2020
Saturday, September 10th (2022) — 9:00 AM
Saturday, February 24th (2023) — 9:00 AM
Instructions for taking an online practice test will arrive via final confirmation email the week of the test. If you choose to take the test "At-School," you will receive a second confirmation email providing further information.
CLICK HERE TO REGISTER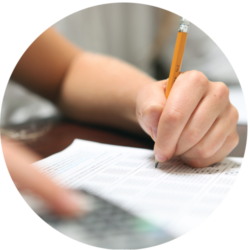 "At-home" or "At-School"
"At-School" address:
Minnie Forte-Brown Staff Development Center
2107 Hillandale Road
Durham, North Carolina
27705
The given test will be the same version "At-Home" or "At-School". If you foresee having internet connection issues or you would like a designated quiet space to take the test, the "At-School" option will provide this opportunity. Space is limited at the "At-School" site; for first come, first served. Please bring your DPS-issued device to take the test "At-School."
Please arrive on-site at 8:30 AM for "At-School" check-in. Students arriving after 9:00 am for the on-site, "At-School" administration will not be admitted. Both "At-School" and "At-Home" tests will begin at 9:00 AM.
ACT Strategy and Score Report Review Session
FOR FAMILIES OF DURHAM PUBLIC SCHOOLS
DATE TBD, 6-7:30 p.m. Eastern
Learn about how to interpret your results and how colleges use scores:
​

Discussion of COVID-19's sweeping impact on college admission testing
How to respond to the flexibility afforded by test-optional policies
Best way to approach the SAT vs ACT decision
The role of test scores in different admissions contexts
Making sense of the subtlety and variety of testing policies
Debunking the most pervasive myths about testing
Successful ways to prep for tests and expectations for improvement
Finding the optimal timeline for your testing and test prep
Adam Ingersoll began his career in test prep in 1993 while at the University of Southern California, where he was a student-athlete on the basketball team, worked in the admissions office, and graduated magna cum laude. Now in his third decade guiding families to successful experiences with standardized tests, Adam is recognized as a leading expert on college admission testing and is a popular speaker at higher education conferences and dozens of school events annually. He has provided training on test usage for the admission teams at prominent universities including Caltech, Rochester, and USC.
Ready to see an interactive test in action? Check out our demo test!
TAKE ME TO THE DEMO
The demo must be accessed through Safari, Chrome, or Firefox on a laptop, desktop, or tablet. Mobile phones are not supported.
Learn More about Online Testing Features
Preview our Interactive Score Report
Schedule a consultation with a Compass Director
The members of our management team are leading experts in the field of admission testing. They personally lead every aspect of each student's experience with Compass, including program recommendations, tutor selection, and ongoing guidance. We welcome you to schedule a call with us to review your student's practice test results and collaborate on a strategy for how best to proceed.
The Compass Resource Center
Download the latest version of…
The Compass Guide to College Admission Testing
…in our comprehensive Resource Center. Get answers to the most important questions, including:
How competitive are your test scores?
What is the most effective calendar for testing?
What are the implications of 'test optional' policies?
How do the SAT and ACT compare?
How do you interpret PSAT scores?
What happened to the SAT Subject Tests?