Sign up for Practice Tests
Jewish Community High School (JCHS) and Compass will administer an ACT diagnostic test for students in the 11th grade. The test results are invaluable in helping the college counselors and Compass directors to craft the ideal testing and tutoring plan for each student.
Sunday, November 7th, 2021 at 9:00 AM PST
Check-in will begin promptly at 8:30AM PST
REGISTRATION DEADLINE: Friday, October 29th, at 5pm PST*
*registration will close early if capacity is reached
The exam will be proctored ON-CAMPUS . Students will check-in near rooms 134, 138, and 139.
Regular time and 50% extended time will be offered for this practice test.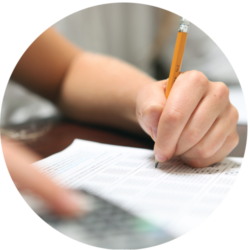 The Compass Resource Center
Download the latest version of…
The Compass Guide to College Admission Testing
…in our comprehensive Resource Center. Get answers to the most important questions, including:
How competitive are your test scores?
What is the most effective calendar for testing?
How do the SAT and ACT compare?
What are the implications of 'test optional' policies?
How do you interpret PSAT scores?
What do I need to know about the new digital adaptive SAT?