Sign up for Practice Tests
Marymount has partnered with Compass Education to offer an on-campus, paper/pencil, ACT practice test (linear, non-adaptive) at no cost. The test results are invaluable in helping the Marymount college counselors and Compass directors to craft the ideal testing and tutoring plan for each student.
THE REGISTRATION DEADLINE IS ONE WEEK BEFORE THE EVENT.
Saturday, October 21st
9:00 AM – 1:00 PM PST (regular-time)
9:00 AM – 3:00 PM PST (extended-time)
The ACT practice test will be held in the Butler Building. Room assignments will be issued on the day of the administration.
CLICK HERE TO REGISTER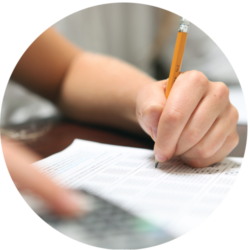 Navigating College Admissions Tests
A PRESENTATION FOR MARYMOUNT HIGH SCHOOL FAMILIES
Wednesday, November 29th, 2023 — 7:00 PM (PST)
CLICK HERE TO REGISTER
Online: Please register in order to receive the Zoom link. All registrants will be sent a recording of the event.
This presentation is offered by the college counseling office. Attendance is highly recommended. The information that will be shared is educational and the event is not a solicitation for the presenter's services. Please join other families for a thoughtful and pragmatic discussion of college admission testing that will be useful to students and parents alike. Receive useful guidance on the following and more:
How to respond to the flexibility afforded by test-optional policies
Best way to approach the SAT vs ACT decision
Understanding the new digital, adaptive PSAT and SAT
Debunking the most pervasive myths about testing
Finding the optimal timeline for your testing and test prep
Scope of test prep and expectations for improvement
Jon began his test prep career in 2002. He holds a Master of Music degree from CSU, Los Angeles, where he was also a professor. Prior to joining Compass, Jon spent five years overseeing tutors for the Guardian Scholars Program at LA City College, supporting current and former foster youth.
Schedule a consultation with a Compass Director
The members of our management team are leading experts in the field of admission testing. They personally lead every aspect of each student's experience with Compass, including program recommendations, tutor selection, and ongoing guidance. We welcome you to schedule a call with us to review your student's practice test results and collaborate on a strategy for how best to proceed.
The Compass Resource Center
Download the latest version of…
The Compass Guide to College Admission Testing
…in our comprehensive Resource Center. Get answers to the most important questions, including:
How competitive are your test scores?
What is the most effective calendar for testing?
How do the SAT and ACT compare?
What are the implications of 'test optional' policies?
How do you interpret PSAT scores?
What do I need to know about the new digital adaptive SAT?