Sign up for Practice Tests
SF Waldorf sophomores and juniors will have the opportunity to take a mock PSAT through the Compass Online Testing Center or join a live, virtually proctored mock SAT session. The Online Testing Center (OTC) is a fully digital-based test that gives students immediate results. The live session has a designated start time with an actual proctor and results are given within a week of the exam. The test results are invaluable in helping students craft their ideal testing and tutoring plan.
Compass Online Testing Center:
Students and parents can see a demo of the OTC here. Students will be given a window in which they must start the exam. They may start the test at anytime in that window, but must complete it in one sitting unless they have a multi-day test accommodation.
Online, Live Proctored:
Students will be monitored by a live proctor through a group Zoom session. Students should sign in through a link provided the week of their exam about 10-15 minutes before the test start time. The proctor will give out instructions, take attendance, announce timing, and handle any issues that may arise during the exam.
Online Testing Center PSAT – Saturday, October 16th
Starting window: 7am-10am PST
Live, virtually proctored Mock SAT – Saturday, October 23rd
Test Start: 9:00am PST
Registration deadline: Tuesday 10/12 at 12pm PST
REGISTRATION IS NOW CLOSED
This exam will be administered ONLINE, either through the OTC portal or through Zoom with a live proctor.
Students will receive an email with access to the the OTC Portal or to their Zoom session. They will need an internet connection for the duration of the exam.
The OTC can handle different accommodations including 50% extended, 100% extended, and multi-day testing. Students will designate their accommodations, if any, when signing in for their test.
Live proctored is only available for Regular and 50% extended time.
Please reach out to practicetests@compassprep.com with any questions or concerns.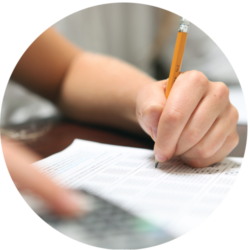 Schedule a consultation with a Compass Director
The members of our management team are leading experts in the field of admission testing. They personally lead every aspect of each student's experience with Compass, including program recommendations, tutor selection, and ongoing guidance. We welcome you to schedule a call with us to review your student's practice test results and collaborate on a strategy for how best to proceed.
The Compass Resource Center
Download the latest version of…
The Compass Guide to College Admission Testing
…in our comprehensive Resource Center. Get answers to the most important questions, including:
How competitive are your test scores?
What is the most effective calendar for testing?
What are the implications of 'test optional' policies?
How do the SAT and ACT compare?
How do you interpret PSAT scores?
Should you take SAT Subject Tests?