Sign up for Practice Tests
St. John's School Puerto Rico will administer a FREE SAT and ACT online practice test to students in the 11th grade. The test results are invaluable in helping families understand the ideal testing and tutoring plan for their student.
SAT: Saturday, February 13, 9:00 AM (EST) Sorry! Registration closed. UPDATE: Extended time is now at 12:30 EST.
ACT: Saturday, March 20, 9:00 AM (EST)
Registration deadline: ONE WEEK before the test.
Complete the form below to sign up for the online practice test. We will send you a full confirmation email one week before the test. Register anew for each test date.
NOTE: Only students who have already secured time accommodations for the SAT and/or ACT can register with 50% additional time for this practice test. Please note that we are only able to offer 50% extra time.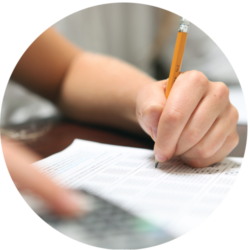 After attending our presentation and/or completing a practice test, you probably have more specific questions about your admission testing plan. Contact a Compass director to get personalized insight into which test you favor (SAT or ACT), build a successful testing calendar, and determine goals for preparation.
The Compass Resource Center
Download the latest version of…
The Compass Guide to College Admission Testing
…in our comprehensive Resource Center. Get answers to the most important questions, including:
How competitive are your test scores?
What is the most effective calendar for testing?
What are the implications of 'test optional' policies?
How do the SAT and ACT compare?
How do you interpret PSAT scores?
Should you take SAT Subject Tests?