Sign up for Practice Tests
Compass will administer an ONLINE proctored ACT or SAT diagnostic test for USM students in the 11th grade that are opting out of the Mock PSAT on Wednesday 10/14. If you are intending to register for the PSAT instead, please use the links below:
Compass will also administer an ONLINE proctored ACT for USM students in the 9th grade.
The test results are invaluable in helping students craft their ideal testing and tutoring plan. Students are given the option to use a paper & pencil exam booklet or a digital test.
We also have recorded proctor videos as an alternate option for students with unstable internet connection.
Please reach out to practicetests@compassprep.com with any questions or concerns.
Registration deadline October SAT/ACT: Tuesday 10/12 5pm CST
Freshmen:
ACT: Friday, October 16 9:00 AM CST
Juniors*:
ACT: Friday, October 16th, 9:00 AM CST
SAT: Friday, October 16th, 9:00 AM CST
*For Juniors opting out of the PSAT event on Wednesday 10/14
This exam will be proctored ONLINE.
Regular-time and 50% extended-time will both be offered through separate sessions at the same date and time.
Students will be monitored by a live proctor through a group Zoom session. Students should sign in through a link provided the week of their exam about 10-15 minutes before the test start time. The proctor will give out instructions, take attendance, announce timing, and handle any issues that may arise during the exam.
REGISTRATION IS NOW CLOSED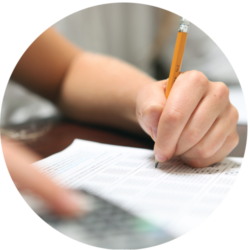 Schedule a consultation with a Compass Director
The members of our management team are leading experts in the field of admission testing. They personally lead every aspect of each student's experience with Compass, including program recommendations, tutor selection, and ongoing guidance. We welcome you to schedule a call with us to review your student's practice test results and collaborate on a strategy for how best to proceed.
The Compass Resource Center
Download the latest version of…
The Compass Guide to College Admission Testing
…in our comprehensive Resource Center. Get answers to the most important questions, including:
How competitive are your test scores?
What is the most effective calendar for testing?
What are the implications of 'test optional' policies?
How do the SAT and ACT compare?
How do you interpret PSAT scores?
Should you take SAT Subject Tests?