Rescheduling or At-Home Practice Tests
We partner with schools across the nation to offer practice test days for students. However, we understand that those days don't always work for a family's schedule.  If you're not able to attend on your school ACT or SAT administration date, please register for a FREE self-proctored practice test below (paper/pencil, linear). Upon submitting your self-proctored practice test answer sheets to us for grading, you will receive your score report within a week.
If you would like to sign-up for one of our regular, live-proctored weekend sessions, our computer-proctored, linear ACT/SAT, or our digital adaptive P/SAT, please use the consultation registration below to make a reservation to speak with one of our Directors. You are also welcome to call us at (800) 685-6986.
PLEASE NOTE: Many students will attempt all three tests in order to be thorough in their planning. We recommend prioritizing the digital adaptive P/SAT (the least familiar to students), then the linear ACT (a popular choice due to perceived stability in this transition year to a new SAT), and finally the linear SAT (least relevant to most students as it will be offered for the last time in December 2023).
We look forward to helping you with a practice test and discussing your results!
Complete the form below to sign up for an ACT and/or SAT self-proctored practice test. Upon registration for each test, you will receive an auto-generated confirmation email with full instructions for how to self-proctor the test on your own time.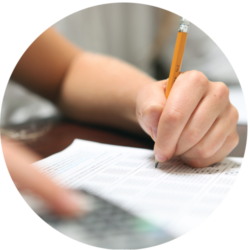 ACT SELF-PROCTORED PRACTICE TEST REGISTRATION
SAT SELF-PROCTORED PRACTICE TEST REGISTRATION
Schedule a consultation with a Compass Director
The members of our management team are leading experts in the field of admission testing. They personally lead every aspect of each student's experience with Compass, including program recommendations, tutor selection, and ongoing guidance. We welcome you to schedule a call with us to schedule a practice test or review your student's practice test results.
The Compass Resource Center
Download the latest version of…
The Compass Guide to College Admission Testing
…in our comprehensive Resource Center. Get answers to the most important questions, including:
How competitive are your test scores?
What is the most effective calendar for testing?
How do the SAT and ACT compare?
What are the implications of 'test optional' policies?
How do you interpret PSAT scores?
What do I need to know about the new digital adaptive SAT?