Proctored Diagnostic Tests
In response to the COVID-19 pandemic, and in an abundance of caution, Compass has suspended all in-person proctored practice tests. Students still have the opportunity to self-proctor practice tests at home, and to take proctored practice tests supervised by an online proctor via Zoom:
SAT and ACT practice tests with standard time are offered at 9:00 AM and 1:00 PM Eastern on Saturdays and 1:00 PM Eastern on Sundays
SAT and ACT practice tests with extended time are offered at 12:30 PM Eastern on Saturdays
Other accommodations and test types may be available upon request
Take a test at home in a virtual group environment supervised by a live proctor online. $50 fee.
Call (212) 381-4421 or fill out the form below
Available tests may include the ACT, SAT, PSAT, ISEE, SSAT, HSPT, and SHSAT. Note that we may not be able to accommodate all tests on a given date.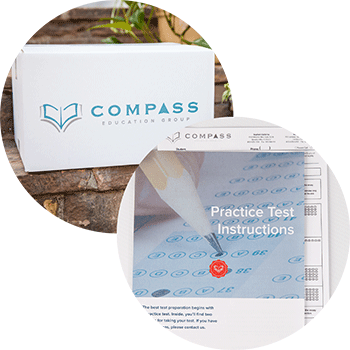 We Send You a Practice Test
You'll receive a physical practice test in the mail the week leading up to your online proctored practice test. We'll also email you instructions for logging into the virtual testing room.
On test day, you'll log into the online testing room and meet your proctor. They will greet you and begin the test. Move through the sections according to the proctor's directions.
Send Your Test in for Grading
At the end of the test, your proctor will give you instructions to submit your test for grading. Once received, we'll dismiss you and send your score report as soon as it's available.
More Details
Compass provides a variety of options for clients and prospective clients to take practice ACTs, SATs, PSATs, SAT Subject Tests, ISEEs, SSATs, and more under realistic conditions, and our reporting engine provides insights such as Similar Scorers, SAT/ACT Comparison, and Attractor Answers that no other score report can deliver. You can experiment with a demo of our interactive score reports here and read more about the powerful capabilities of the reporting platform here.
For students just getting started, practice tests are an essential part of choosing a test, a timeline, and a plan for preparation. For students already working with Compass, practice tests are an essential part of our programs. See Making a Practice of Practice Testing for a detailed explanation of the benefits of practice testing.
It's up to you whether you choose the flexibility of a self-administered test or the realism of taking a proctored test with other students. Your Compass director or tutor may make specific recommendations based on your needs. Compass directors are available to help you interpret your results and turn them into concrete decisions.
Self-administered exams: At your convenience.
We can set you up with a test and instructions for self-administration at home. We even have online videos to provide virtual proctoring. Once you complete the exam, you can enter your answers yourself for immediate results or let us handle it for you.
Proctored Practice Sessions: Professionally administered, structured environment.
Some students prefer having a live proctor to mimic the exact testing environment. We provide both online and in-person practice test sessions. Your full score report, including essay scoring, is typically available the same day and always within two business days.
Testing Accommodations
To confirm a reservation with extended time or to discuss whether we can provide other types of accommodations, please call us at (212) 381-4421.