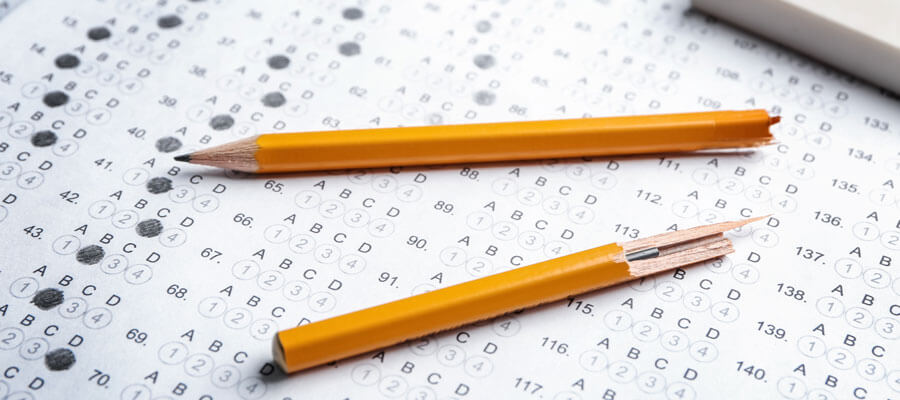 Our product team recently spent time with executives from College Board and ACT, Inc. We left with a lot to report from both camps. This post distills the conversations down for initial consumption. New information and resources will continue to become available about the digital SAT during the next 4-6 months, and Compass will help explain what it all means to families and counselors.
THE SHORT VERSION:
The 21st century dovetailing of the SAT and ACT is about to diverge.
SAT's tact is to change with the times; ACT's strategy is to stay the course. Both make a case for how students benefit from the paths they are each paving.
The new terrain looks as transformed as anything the test prep industry has previously navigated. It will require more resources, institutional experience, technical expertise, and specialization than ever before to properly respond to the needs of the market. Our product & tech teams continue to feel invigorated about the opportunities this creates. The advanced work they've completed over the last few years positions Compass very well for the approaching changes. Compass will offer an early "PSAT experience" to students this fall, as a way to help them develop comfort with the new format.
Almost all students in the class of 2024 will finish their testing before the arrival of the digital SAT. It's far more complicated for the class of 2025. Here is what families and counselors need to know.
Rollout Timeline

Courtesy of College Board
Differences Between the New Digital SAT and Paper Tests
DETAILS ON THE DIGITAL ADAPTIVE SAT:
Rollout
Test specs are expected no later than early July and may be available within days. The specifications will include sample items, but little in the way of practice material.
Four practice tests are expected this fall on the College Board's testing app.
Khan Academy will release initial practice exercises this fall.
Students, high schools, and colleges will not need to learn new scoring. College Board will continue with 200-800 scoring, and no concordance is needed. A 620 on a paper test is meant to equate to a 620 on the digital SAT.
Will colleges superscore paper and digital? Advanced juniors may test on paper in the fall of 2023 and re-test on the digital form in the spring of 2024. The former is more useful if it can be superscored with the latter. Since concordance is not required, College Board will endorse superscoring. Ultimately the decision lies with individual colleges.
Administration
National dates will remain unchanged for now.
School day testing will enjoy even greater flexibility: broad testing windows, staggering students throughout the day or across a week or month. Easy make-ups for absences. However, there will be limits to re-testing within a window.
National testing could eventually offer more flexibility: staggered start times throughout the day, etc.
No firm answer yet on how fees may be affected.
Accommodations
Existing accommodations will be maintained and most will be provided in the digital, adaptive format.
Students with extended time will not be allowed to end a section early to advance.
For accommodations that cannot be provided digitally (e.g., Braille), students will take a longer, 3-hour, non-digital and non-adaptive exam.
Stage Adaptive, The Basics
The adaptive nature of the exam is critical to making it a much shorter test.
The digital SAT will also be less speeded than the current test, according to College Board.
Each Section will be broken into two stages (or modules) with a pause (not a break) between each stage. Each stage will run about 30-35 minutes. A break will come after the entirety of the first section (two stages). A specific order — (e.g., Does Math always come first or second?) has not yet been shared.
The first stage of each section is not adaptive (item difficulty will not "adapt" to a student's performance). The adaptation occurs with the second stage.
At the end of the first stage, the test will choose an appropriate level of difficulty for the second stage. The better a student does on the first stage, the harder the second one will be. This shift in difficulty is critical to getting to an accurate score on a shorter test.
The SAT will not be item-adaptive where every question varies based on performance (like the GMAT). It will be stage-adaptive (like the GRE). It will only adapt once for Reading & Writing and only once for Math. This lowers the stakes on any one question and also preserves the ability to go backward and forward within a stage.
Stage Adaptive, The Technicalities
Adaptive tests use a form of scoring called Item Response Theory. Questions can have different weights under IRT. They can even have different weights based on score level. The digital test will be better at knowing how well a given question distinguishes one skill level from another and how to value that. IRT can produce an optimized picture of which problems and weightings best place a student into a particular score range.
A simple right/wrong tally does not make sense on an adaptive test, which means students will never find out how many questions they got right or wrong. Students will not know exactly how their score was determined. A published scale makes little sense when everyone has taken a different exam.
Students will not be given access to their problems, because College Board will re-use some problems in the future. In lieu of QAS releases, additional sample tests will roll out periodically.
Test Security & Technology
Students testing together will encounter differing versions of the test, even on the first stages. The test draws from a large pool of problems but the created sets of problems will meet the same content standards and provide an equivalent experience.
The risk of a test being compromised is greatly reduced — no more locked drawers, sealed booklets, or delayed mail items.
Students at the same site can be started at different times, since there is a greatly reduced risk of sharing problems within a room or during breaks.
Students will use the equipment provided by the school or site or bring their own laptop or tablet. They can also incorporate external devices such as a mouse, keyboard, or stylus for personal comfort. College Board will establish a lending programs for students who do not have approved devices.
The test will be administered in a locked-down app; students will not be able to open other applications while testing.
Students will be expected to arrive with fully charged devices and the testing app pre-installed. Test centers *may* provide power to standard-timed examinees and *must* provide it to those with extended time.
Scratch paper will be provided because, for example, the app will not allow for the marking-up of math diagrams. A pencil or pen is fine.
Bandwidth requirements are minimal. The entire test is cached and encrypted, so an internet disruption should not prevent the completion of an exam. The exam results can even be uploaded after the test has already been completed. When a proctor says, "Pencils down," on a paper test, it is difficult to enforce securely. The computer can easily end the student's exam and keep the results secure.
If a power issue stops the test, it can be restarted with a proctor authorization. Deliberately powering down and firing up again is cheating and explicitly forbidden. Cheating tactics that try to exploit the digital form factor are unlikely to work, as College Board effectively has a full transcript of what occurred.
Students will have their own timer in the app, so the problem of mistiming by proctors or the lack of notifications should be eliminated.
The fact that students end at different times may create disruptions, although College Board maintains that things have gone smoothly during its pilot testing.
RESPONSES AND UPDATES FROM THE ACT:
ACT wants to continue to be seen as the reliable option, since the new digital SAT will be the third different SAT offered in just the last 8 years.
Rumors of dropping the Science section can be put to rest.
The optional Writing section will remain to comply with state contracts and for students testing internationally.
Section Retesting is off the table for now.
ACT is working on making the test less speeded.
Paper exams will remain available even if a digital option is someday provided to all students at national sites. Digital testing at national sites is being considered and they are still working through logistical questions with their site partners.
They already offer a digital test abroad and in special administrations domestically, but it is just a version of the paper exam for the computer.
ACT has not ruled out adaptive scoring for a revised digital exam.
Test site shortage—especially in regions like California—is a known problem with no clear strategic solution. Where ACT has strong traction with state and district testing, it's less problematic. They have no formula for getting schools to opt back into national testing. Both ACT and College Board are succeeding with school day testing but with the unintended effect of reducing the incentive for those schools to also participate in national testing.
We will add updates should any of this change with the College Board's release of the test specifications.